History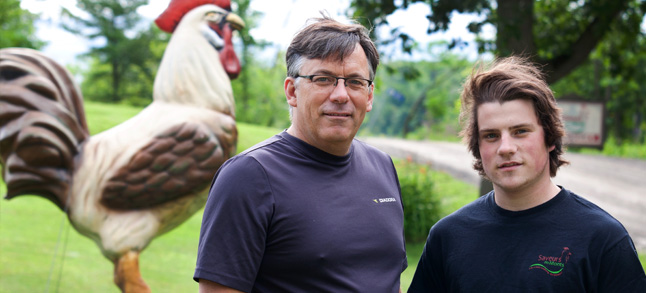 The Ferme Aux Saveurs des Monts arose from the dream and passion of the owner, Sylvain Bertrand. While armed with agrology experience and a master's degree in agriculture management, Sylvain had no experience in chicken raising at the beginning of his adventure in 2000.
When he purchased the farm previously called Ferme GG et filles, Ginette Lafleur, the former owner, kindly accepted to help Sylvain and shared her knowledge to coach him and ensure the business' success.  This is how the adventure began and it has not ceased to grow ever since.
Building upon an early success, the farm has been expanded many times since the purchase. Products form the Femre aux saveurs des monts are now part of the food scene of the Outaouais region: they are readily available at the farm's Boutique, in many supermarkets, in fine grocery stores, as well as on the menu of renowned restaurants in the area.
​Approximately 30 000 chickens and a herd of 2000 turkeys are raised every year with the greatest respect for the animal and its growth cycle. The quality of the product and animal welfare are the farm's key priorities and mission.
Pay us a visit to witness the quality of our installations and experience high quality local products.